A BRILLIANT WHITE SMILE IN LESS THAN A MINUTE
Do you suffer from discolored teeth due to coffee, wine, smoking or do you find your teeth not white enough? A common problem among adults. A beautiful smile is often synonymous with white teeth because it's the first thing people see when you speak.

Then our CleanOral™ Teeth Whitening Pen is the perfect solution for you. Brilliant white teeth are now possible in just 10 minutes. Previously, this was only possible for high fees at a whitening salon or dentist. Now you can do it from the comfort of your own home. So the professional whitening kit from FitMedify is guaranteed to help you. 
THE NATURAL WAY TO A RADIANT SMILE

The effective gel in the CleanOral™ whitening pen consists of a special selection of natural products that are not harmful to your teeth. After only one treatment with the CleanOral™ whitening pen you can already notice a difference. The discolored molecules will be targeted, whitened and protected.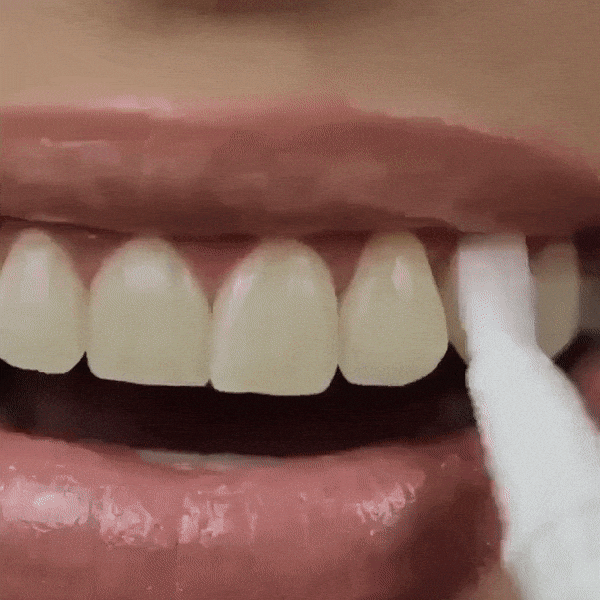 SAY GOODBYE TO YELLOW TEETH
Our CleanOral™ whitening pen beautifully lightens unwanted yellow teeth. It's efficient and absolutely painless! Just apply, let it soak in, wipe off, and you'll have a beautiful smile that lasts for weeks.

✔️ Remove years of stains - Our professional whitening pen can effectively and quickly remove years of stains caused by coffee, tea, wine, smoking, soda and more. Its natural taste will leave your mouth feeling fresh!

✔️ No sensitive teeth - Hydroxyapatite remineralizes cavities and repairs tooth surfaces. It can be added to the bleaching solution to reduce the effect of the bleaching agent by closing the pores in the tooth enamel. This reduces sensitivity after the bleaching process. White teeth always and everywhere.
✔️ Travel Friendly - The compact design, measured at 5 minutes, makes it so easy to whiten your teeth on the go, anytime, anywhere. The transparent tube allows you to see exactly how much product is left.

✔️ Professional treatment from home - Our CleanOral™ Teeth Whitening Pen is the perfect solution for quality at-home whitening without any sensitivity. No need to visit the dentist for expensive and harsh chemical whitening treatments.

✔️ Safe and gentle for daily use - This teeth whitening pen is extremely safe and provides fast results with daily use of only 1 minute! The pen contains more than 20 applications and with consecutive use, teeth can become 4 to 8 shades whiter.

How does it work?

1. The natural bleaching agents combined with hydrogen peroxide attack the dirt molecules on the teeth and remove them completely.

2. This bleaching gel formula has proven to be one of the best for teeth whitening and is even used by dentists.

3. The advanced whitening gel removes 100% of coffee, wine, tobacco and other stains without attacking the enamel, and also forms a dirt-repellent barrier.
 METHOD OF APPLICATION:

1. Clean your mouth with warm water and dry your teeth.

2. Open the cover, twist the other end of the pen, brush the essence on your teeth, do not touch your teeth within 30 seconds to 1 minute.

3. Clean your mouth after 30 minutes.
 *UPDATE: Due to the current special offer, we only have a few left in stock.


Order now to receive your CleanOral™ guaranteed.